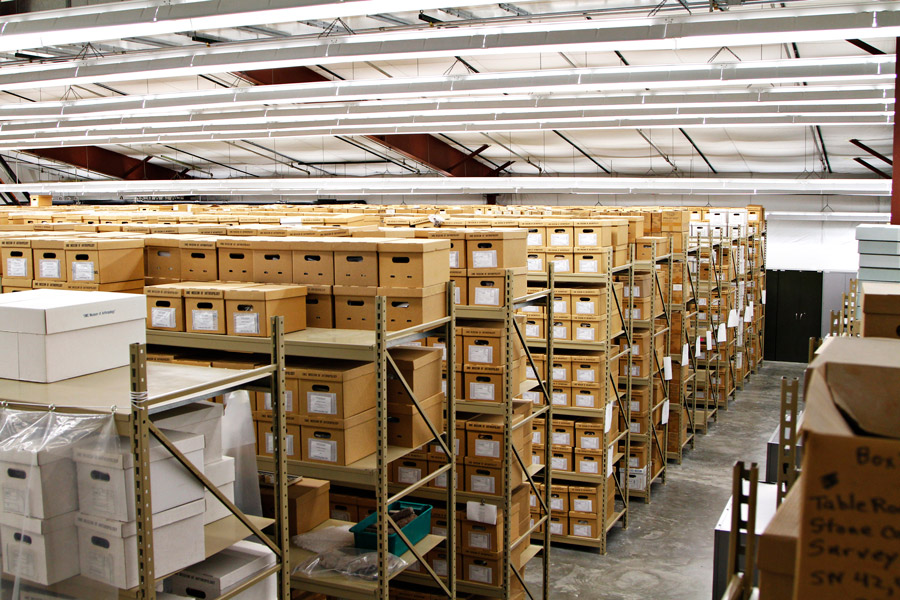 The American Archaeology Division (previously known as the University of Missouri Archaeological Research Division) was organized in 1946 by Dr. Carl Chapman. This was a program of salvage archaeology housed under the department of Sociology and Anthropology. The Department split into separate Sociology and Anthropology departments in 1965. After Dr. Michael O'Brien took over as Director of the AAD (1980), direct involvement in excavations ceased and AAD became solely a curation depository. By 2016, the AAD was folded under the Museum of Anthropology's umbrella.
The Museum's American Archaeology Division (AAD) maintains archaeological collections, consisting of prehistoric and historic artifacts from various sites throughout Missouri. These collections are the result of cultural resource management, salvage, and academic excavations. AAD's Curation office is located at the Museum Support Center.
Guidelines for Archaeological Curation
AAD's minimum curation standards, based on 36 CFR Part 79, and fee schedule for submitted collections, including the curation agreement may be downloaded here: Guidelines for Curation.  A curation agreement is to be filled out by the contractor and submitted with each project collection.
For more information on federal curation, go to the National Park Service's Web site on archaeological curation: https://www.nps.gov/history/aad/collections
Archaeological Curation Databases
The Curation office maintains databases of archaeological collections and collection-related documentation. These databases are available online for education and research purposes.
Archaeological curation inquiries may be directed to:
Jessica Boldt, Assistant Curator
American Archaeology Division
101B Museum Support Center
573-882-2926
boldtj@missouri.edu
NAGPRA collection inquiries may be directed to:
Candace Sall
Director
phone: 573-882-3764
email: nagpra@missouri.edu
For more information on the Native American Graves Protection and Repatriation Act (NAGPRA) go to:  http://www.cr.nps.gov/nagpra/
More Info
Archaeological Curation Databases
Archaeological Collection Inventory
The database shows accession numbers, information about a collection's history, and relevant CRM or research reports. For a site-specific artifact inventory, please contact Candace Sall. When making inquiries, reference the site and/or identification number(s). Also be aware that the database may not contain information on older collections that have not yet been rehabilitated (rebagged, inventoried, accessioned).
Archaeological Archive
An inventory of collection-related documentation, including field notes, photographs, and reports, organized by project, e.g., HST Reservoir Project.
NAGPRA Inventory
The following database contains information on remains and objects housed at MU and covered under the jurisdiction of NAGPRA. Many of these collections are not controlled by MU, but are curated for outside agencies. For more information on collections controlled by outside agencies, please contact the appropriate organization.